Archive | .com
RSS feed for this section
5 May
Author:  Roberb21
The Internet has been around for a number of years, and with web hosting companies making it easier to reserve and operate a website under a specific name, sought-after addresses are sometimes already taken. So what is a business to do when the company's desired domain name ending in .com is already taken by someone else?
There are a few options: The company could buy out the owner for the name, come up with a name that is more complicated or different from the one the corporation originally wanted or look at one of the other top-level domain (TLD) options beyond the familiar .com.

Because .com names that are more likely to appear at the top of a web search are sometimes already taken, the Domain Name System developed a new moniker for businesses on the web that would still immediately signify the site as commercial and not a non-profit organization (.org) or network (.net). For that reason, biz was created as an alternative TLD to .com. Registering this way is no more complicated than claiming other domain name alternatives and immediately signifies the site belongs to a company.
Registering for this type of domain name does not have the legal qualifications that a .org would have or any geographical restrictions. The only stipulation is that the site registered under that name must be used for commercial use.
Though not as common as .com, the .biz domain name is not anything new on the Internet, as it has been around since 2001 and, as of 2008, its registry had reached 2 million names, which pushed it into the top ten of TLDs. Because the domain name is now well-established, using it can finally allow a business to have a clear, easy-to-search-for website address that looks every bit as professional as a traditional .com.
For the original article go to: http://bit.ly/lbQRV1
24 Feb
Author:  Mike Sullivan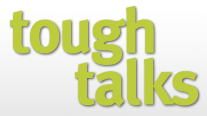 Real-Impact Inc. is a boutique executive training company specializing in working with business leaders to improve communications to key audiences. In addition to providing training and consulting services, Real-Impact has a division, Higashi Publishing, which offers numerous learning resources, including the Tough Talks™ series, including Tough Talks™ in Tough Times: What Bosses Need to Know to Deliver Bad News, Motivate Employees & Stay Sane.
The president, Jean Palmer Heck, has trained people from 33 countries and speaks at many business and association conferences. She has experience on both sides of the camera and microphone–as a news reporter/anchor and as a spokesperson for a pharmaceutical company.
The company's domain names are:
* www.Real-Impact.com
* www.ToughTalks.biz
* www.HigashiPublishing.com
Mike:  Tell me about your domain, toughtalks.biz.  I see the .com is taken but not in use.  Was the .com your first choice?  Did you try to contact the owner to purchase it?
Jean:  The .com domain was our first choice, but it was already taken.  When we were unable to track down the owner,  we decided to buy domains with variations of our ToughTalks™ brand name. We then chose to use the shortest domain to use in our marketing.  That is the .biz version.
Mike:  Has owning .biz instead of .com caused any confusion by customers typing in the .com and thinking there was a problem with your site?Do you feel that .biz is pretty well accepted in business?

Jean:  The .biz domain has not caused any confusion, as far as we know. Most people don't type in the domain name; they usually type the company name or book title in the Google box.  As a result, they find the Tough Talks™ series website and probably don't even notice that it is not a .com name.
Mike:  What made you decide to go choose .biz over any of the other available TLDs such as .info or .us?

Jean:  We wanted to use the one that was most suited to the business application of the book. We discussed it with our webmaster and our public relations consultant, whose domain names also do not have .com, but rather .biz and .us. They told us that they have not found any problems with them.
Mike:  As you mentioned in our initial contact, you also own a hyphenated domain, Real-Impact.com.  In this case you chose a hyphen in order to own the .com.  What made this decision different than toughtalks.biz?  Why not RealImpact.biz?
Jean:  Real-Impact Inc. was formed a number of years ago, before the .biz became popular. In fact, I don't even know if it was available then.  Previously the company was called JPH Corporate Communications.  The initials in the business's name, JPH Corporate Communications reflected my own initials, but was sometimes transposed by clients to JHP.  I realized that there wasn't anything particularly unique about using initials in a company name and decided to change it to make it more memorable.
A business development advisor suggested I consider a name that reflected the benefits of doing business with me. He asked how my clients characterized their experiences with my training and consulting.  Since many of my clients had told me that my coaching and training had significant value to their professional development and that their communications had real impact on their key audiences, I decided to incorporate that phrase in the company name.
We sought the domain, realimpact.com, but its owners were not willing to relinquish it. Since our focus groups overwhelming liked the name of Real-Impact, we decided to stick with it and use the hyphen in the logo and the domain.
Mike:  Have you done any marketing of these names either online or offline?  ToughTalks.biz ranks on the first page of Google for the term "tough talks" (without quotes).  Real-Impact.com ranks in the second position for "Real Impact" second only to the non-hyphenated term.  Was this due to intense effort or do the names have a large role to play in it?
Jean:  With these particular domains, we have not used Google Ad Words. Because Real-Impact is a boutique training company, most of our business comes from word of mouth and referrals from our clients.
All of our marketing materials list the domain names.  These include business stationery, handout materials at conferences, and information about my speech titles and learning resources.
In terms of SEO, we could do much better. But we're fairly pleased with the results we have gotten with limited investment in such efforts.
Mike:  Based on your experiences, what advice do you have for others searching for domain names for their businesses?
Jean:  Get creative. Think benefits.  Scrutinize your company name.  Initials are so….last millennium!
For the original article go to: http://sullysblog.com/real-impact-tld
10 Feb
Author: ste01153
Whether operating in the real world or online, businesses need to make themselves accessible to potential clients. In real life these marketing campaigns can include pamphlets, posters, or radio and television commercials. But when making the transition to online marketing, businesses need to use a different perspective. In the outside world businesses can go to their intended audience, on the internet however, clients must find them. For this reason, getting exposure on the internet can be contingent upon whether or not your domain name is of good quality. For those in the hunt for domain names, there are some compelling reasons to think about biz domain names in place of a . Com.
. Com and . Biz are both quite popular on websites around the internet. It is easy to think that the issue of extensions is not very important in selecting a domain. However, choosing a domain name is more serious than it first appears. On the internet although the content of a website can keep internet browsers on your site, the domain is what brings them in to begin with.
In some respects it makes a lot of sense as to why many webmasters opt for the . Com website. The . Com is probably the most popular extension on the internet. What many are missing however, is the understanding that many of these webmasters are not building sites geared towards doing business.
An obvious benefit to a . Biz extension is that it is easier to get the domain name you want. With . Com in many cases there is a lot of work needed in getting the domain name of your choice. Once you've figured out which name you want, it can be very time-consuming and expensive to acquire it. A . Biz name does not present the same difficulty while still allowing you to maintain both the name you want and the clarity an online business needs. This in turn makes it easier for customers to access your site without any doubts as to your overall intent.
A . Biz extension is designed specifically for businesses to use, and as such if you're building a website for your business there shouldn't be any problems with usage. In regards to potential for growth, . Biz offers multilingual and international options. This in turn allows business owners to make huge strides in expanding websites at the right time.
In short, domain name selecting is more complicated than it looks. Initially it may appear that picking a . Com name is a better idea but there are good arguments in favor of . Biz extensions. To start, . Biz extensions are specifically made for business. Thus the intent of your website is clearer to web surfers. Second, domains are more available in . Biz than they are in . Com. Last but certainly not least, a . Biz domain name will also cover you as far as growth and convenience is concerned for both you and the business. There are many more compelling incentives to choosing biz domain names, but these are a few.
For the original article go to: http://distinctivewebconcepts.com/biz-domain-names-reasons-to-consider-them